The Bermuda party is now in full swing – with activities for everyone and a very warm "island home" welcome in the capital, Hamilton.
A total of 18 ships, representing 10 different nations, are lined up along the harbour, with crews from all over the world.
This is Bermuda's sixth Tall Ships Festival, and by joining the 35th America's Cup, it's a unique opportunity for crews and visitors to observe the future of sail racing alongside the history of sailing. Crews have been given free access to the America's Cup village on Sunday, and they will be making a grand arrival by sailing in on two of the Tall Ships.
Today (Friday 2 June), crews are taking advantage of the opportunity to soak up the atmosphere, go to the beach, and enjoy some down time before getting together for a big Crew Party tonight. Tomorrow, they will be making some noise in the Crew Parade, and the winners of Race 2 of the Rendez-Vous 2017 Tall Ships Regatta from Sines/Las Palmas will be announced at the Prize-Giving Ceremony.
"We are incredibly thrilled to be hosting the Rendez-Vous 2017 Tall Ships Regatta at a time when the island is alive with activity. Bermuda's nautical roots are rich and run deep and we welcome everyone with open arms and hearts and hope you will join us in celebrating our culture maritime heritage and common bonds we share."

The Hon. Michael H. Dunkley, Premier of Bermuda
Final Race Results
US Feeder Race: Charleston To Bermuda
Race 2: Sines to Bermuda
Making Music
The crew from Wylde Swan (The Netherlands) has been drawing the crowds with their new band… featuring ukeles, guitar, bongos, hand-made drums, saxophone, shakers and more! The entire crew is involved, including the Captain. Hardly any of the crew could play an instrument before they joined the ship – but with a bit of help from an on-board music teacher they have been playing covers and have really bonded over the experience.
Royal Relay
At the first Rendez-Vous 2017 Tall Ships Regatta port – Royal Greenwich, UK – we announced that Her Royal Highness Queen Elizabeth II has written a message of congratulations to the people of Québec, Canada. This special letter is being passed from ship to ship – starting with Wylde Swan (Netherlands) who passed it to Jolie Brise (UK) in Sines. At a celebratory Captains' Dinner last night (Thursday 1 June), the letter was passed to the Captain of HMCS Oriole (Canada), who will sail with it to Boston for the next relay hand over.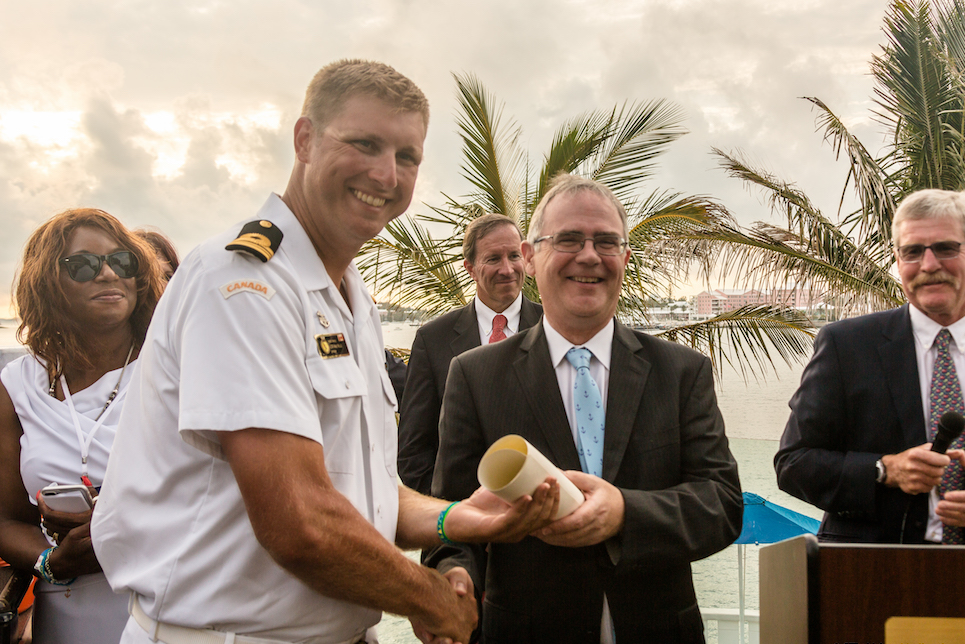 You can see the full list of events on offer in Bermuda at the Official Tall Ships Bermuda website.
Get Involved
You can still be part of this adventure of a lifetime. Berths are available for Race 3 (from Bermuda to Boston) onwards. Check out the available places on our Rendez-Vous 2017 Tall Ships Regatta event pages.
You can book your place directly with a participating vessel, or if you'd like help simply email our friendly team on enquiries@sailonboard.com, who can make recommendations, answer questions and process your booking for you.
Photo: Music makes the Bermuda Tall Ships party go with a swing (banner image); Queens letter handover (main image). Courtesy of Valery Vasilevsky.