The Crew Parade and Prize-Giving Ceremony at Victoria Park in Hamilton, Bermuda was a celebration of fast racing, international friendship and team spirit yesterday (Saturday 3 June 2017).
The third Crew Parade of the Rendez-Vous 2017 Tall Ships Regatta started in Barr's Bay Park, proceeded down Front Street, Court Street, Dundonald Street and ended in cool and leafy Victoria Park in front of a traditional bandstand. Here, the race and special award prize winners were announced by Paul Bishop, Race Director, Sail Training International and awarded by Cindy Campbell, Chairman, Tall Ships Bermuda 2017 and Ross MacDonald, Race Chairman, Sail Training International (suitably attired in Bermudan shorts). Accompanied by traditional Bermudan dancers and a DJ, the whole event turned into a big party with al fresco dancing into the evening.
Parade of Sail and Race Start
Tomorrow (Monday 5 June) the Parade of Sail will take place, finishing off St David's Head, but the Race Start has been postponed. Following consultation with Bermuda Weather Service a series of intense, off shore, low pressure areas are expected to bring stIff winds and lumpy seas across the race course north of Bermuda. The Race Committee has therefore recommended that all vessels in the fleet anchor in St George's Harbour after the Parade. To avoid the bad weather window, and as a safety precaution, vessels will have the option to cross the start line at any time between 18:00 UTC/15:00 local on Wednesday 7 June and 18:00 UTC/15:00 local on Friday 9 June. Bad weather aside, this is a fortunate opportunity for Bermuda's residents to enjoy the ships just a little bit longer and for trainee crews to enjoy more hands-on sail training time before racing starts!
Prize-Giving Ceremony
Special Awards:
Most Spectacular Arrival in Port
Pride of Baltimore II (USA)
Best Dressed Ship in Port
Amerigo Vespucci (Italy)
Youngest Trainee (Male)
Michael Paarman (17 years olds), Wylde Swan (The Netherlands)
Youngest Trainee (Female)
Megan Gately (16 years old), Rona II (UK)
Most Musical Crew Award
Wylde Swan (The Netherlands)
Youngest Captain
Luke Duckworth (26 years old), Jolie Brise (UK)
Best in the Crew Parade, Class A
Picton Castle (Canada)
Best in the Crew Parade, Class B/C/D
Rona II (UK)
Rrace Communications Award
Spaniel (Latvia)
Youngest Crew
Rona II (UK)
Most International Crew
Atyla (Vanuatu) – 12 nationalities including Belgian, Spanish, British, French, Latvian, Swedish, Japanese, Canadian, German, Russian, and Hungarian.
US Feeder Race Awards:
Communications Award
Alexander Von Humboldt II (Germany)
3rd on corrected time
When and If (USA)
2nd on corrected time
Oosterschelde (The Netherlands)
1st on corrected time
Pride of Baltimore II (Canada)
Sines to Bermuda Race Awards:
3rd on corrected time
Spaniel (Latvia)
2nd on Corrected Time
Blue Clipper (UK)
1st on Corrected Time
Wylde Swan (The Netherlands)
Line Honours
Peter von Danzig (Germany) – 3,000 nautical miles for racing 19 days, 15 minutes and 57 seconds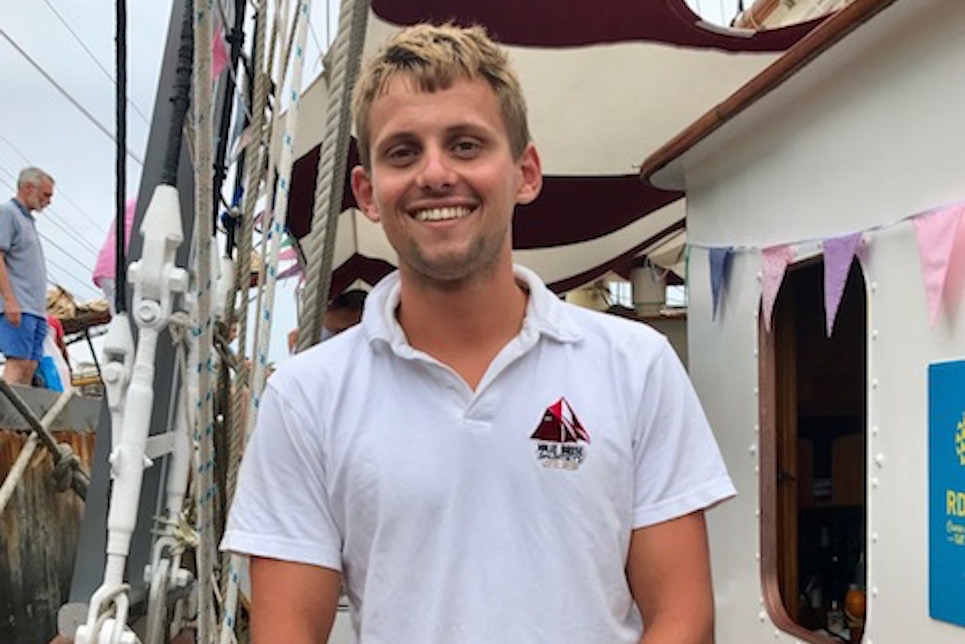 Meet Luke… The Youngest Captain
Ever dreamt of finding polar bears and being the Captain of your own boat? Meet Luke Duckworth – the youngest captain of the Rendez-Vous 2017 Tall Ships Regatta fleet in Bermuda. He turned his dreams into reality and is an inspiration to other young wannabe sailors.
Originally from Wiltshire, but now living on the south coast at no fixed abode, Luke is proof that with hard work any dream can be turned into reality. His first sailing experience was The Tall Ships Races as a 15-year-old trainee with zero sailing experience. But that first taste of the sea had him hooked and even though he went to university to study Chemistry, sailing was always his first love. By the age of 18 he had completed his first Transatlantic event and then spent a year sailing and refitting Jolie Brise, where he really got the chance to know the boat and how she worked. He studied for his RYA exams and was then able to skipper Jolie Brise across the Atlantic from Sines to Bermuda. Straight after Bermuda his next big adventure is sailing to the Arctic Circle as first mate with Rubicon 3 Adventure Sailing, in a quest to find Polar bears. Then it's back to Le Havre, France in September, for the final port the Rendez-Vous 2017 Tall Ships Regatta to sail Jolie Brise across the English Channel and deliver her back to her mooring in Hamble, UK.
Inspired? This could be you! To find out more visit www.sailonboard.com
About the Rendez-Vous 2017 Tall Ships Regatta
The Rendez-Vous 2017 Tall Ships Regatta is truly the adventure of a lifetime. You could be sailing in the wake of the great explorers with USA, Canada, and France still to visit. Take part in races and cruise to more than 30 beautiful Canadian guest ports. What are you waiting for?
There are still berths available – secure your place today! Check out our event page for more information. You can book your place directly with a participating vessel, or if you'd like help simply email our friendly team on enquiries@sailonboard.com who can make recommendations, answer questions and process your booking for you.
Photos: Girls in the pink – Rona II crew at the Crew Parade; photo courtesy of Valery Vasilevskiy. Luke Duckworth, winner of the Youngest Captain Award.