We are delighted to announce that registration is now open for the International Sail Training & Tall Ships Conference 2022, taking place in Las Palmas, Gran Canaria, from Friday 18th to Saturday 19th November…
After missing our annual in-person conference for two years running, we are truly delighted to be able to return with the stunning backdrop of one of Spain's most famous islands.
We are very grateful to the authorities in Gran Canaria for their support and advice in helping us to organise what promises to be an exciting conference for all our stakeholders.
As we organise this year's conference without the help of an overall sponsor, we would like to make you aware of some changes to the event. Following all of the challenges we have faced in the last two years, we trust you will understand these have been necessary in order to make the conference a reality.
Reflecting the increase in costs directly relating to arranging the event, delegate fees have increased since our last in-person conference in Antwerp, 2019.
We are no longer in a position to offer free delegate passes to any stakeholders, as we may have done in the past. This includes members of the International Council and the Executive Committee of the Ships Council (ExCom).
You can book your place for what is always a must attend event for everyone involved in Sail Training and Tall Ships, below.
Conference Fees:
Full Delegate Rate: £800
Subsidised bonafide Sail Trainer/Operator: £350
International Council: £250
Executive Committee of the Ships Council (ExCom): £150
Outline Programme
Thursday 17th November
Pre-conference meetings (pre-registration required)
18.30-20.00 Evening: Welcome Address and Reception at the Castillo de la Luz (Open to all registered delegates)
Friday 18th November
10.00 – 18.00 Conference sessions at the Auditorio Alfredo Kraus
Saturday 19th November
10.00 – 16.00 conference sessions at the Auditorio Alfredo Kraus
19.00 Gala Dinner and Annual Awards Ceremony at the Pueblo Canario
BOOKING YOUR STAY
As part of The International Sail Training & Tall Ships Conference 2022, we have teamed up with the Marriot AC Iberia Las Palmas Hotel  to offer delegates a reduced booking rate of €100 per night during the conference (16th – 20th November).
To book your room at the reduced rate, just follow the special link below. Please note reduced rates for rooms are available until Friday 30th September.
*We understand the AC Iberia is now full for the evening of 18th November, although available to book on other days.  They expect to have some cancellations in the coming weeks which will make booking possible again, however this cannot be guaranteed.  As rooms are released, the link will work again while rooms are available.
Alternate hotels you may wish to consider are:
Hotel Doña Luisa
Link: https://www.trujillocastellanos.com/es/alojamientos/HotelDonaLuisa/ 
Promo Code: SAILTI
Prices:
Single accommodation : 53,10€
Single accommodation with breakfast: 61,10€
Taxes are included in the Price.
Hotel Lumm
Link: https://www.lummhotel.com/es/index.html
Promo code: THEACUERDO10
Sail Training International Ships Council Meeting
The Sail Training International Ships Council (STISC) will meet before the official conference starts on Thursday 17th November 2022. In a change to previous years, the Ships Council session will run from 13:00 – 16:00 with tea/coffee available from 12.30.  Registration for this meeting is essential for logistical reasons and only pre-booked delegates will be able to attend. 
PLEASE NOTE: THIS MEETING IS OPEN TO VESSEL OPERATORS AND MEMBERS OF THE STISC ONLY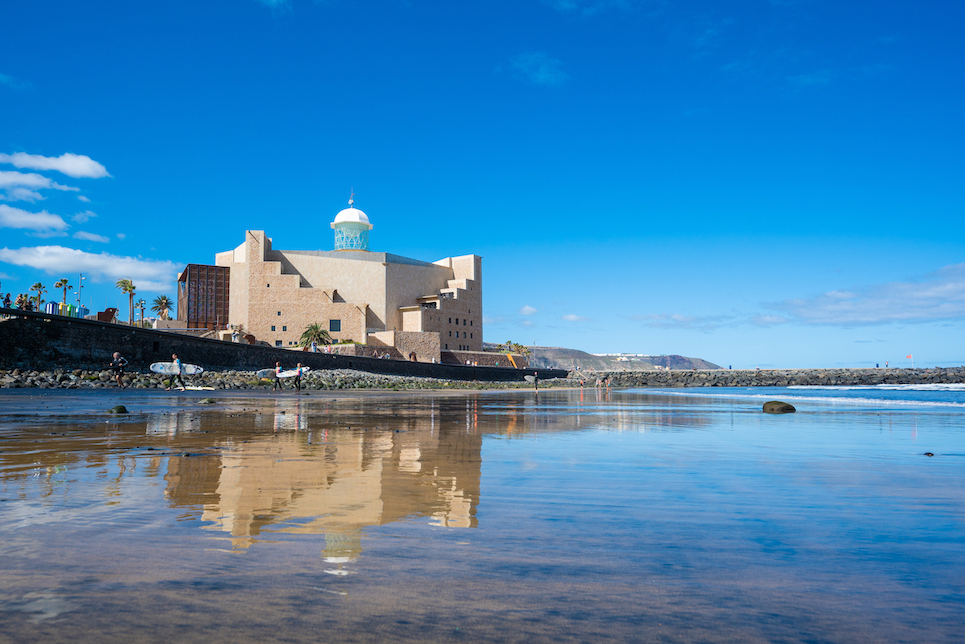 About Las Palmas
The capital of Gran Canaria, Las Palmas uniquely combines an eclectic mix of cultures from Africa and the Mediterranean with a mainland-Spanish feel to create an intriguing and distinctive city. With the cosmopolitan feel of a major Spanish city (Spain's ninth biggest) and relaxed approach of a historic coastal enclave, it's an ideal environment to enjoy Spain's world famous Canary Islands.
We're always eager to take advantage of the chance to network with friends from the Sail Training, Tall Ships and Host Port communities during our conferences. With a mix of bustling cafes and bars, the 2km long Las Canteras beach which runs through the middle of the city, and the UNESCO World Heritage Old Town, Las Palmas offers the perfect surroundings for delegates.
Check out the map below to find out where each of the conference venues are and to help plan your stay.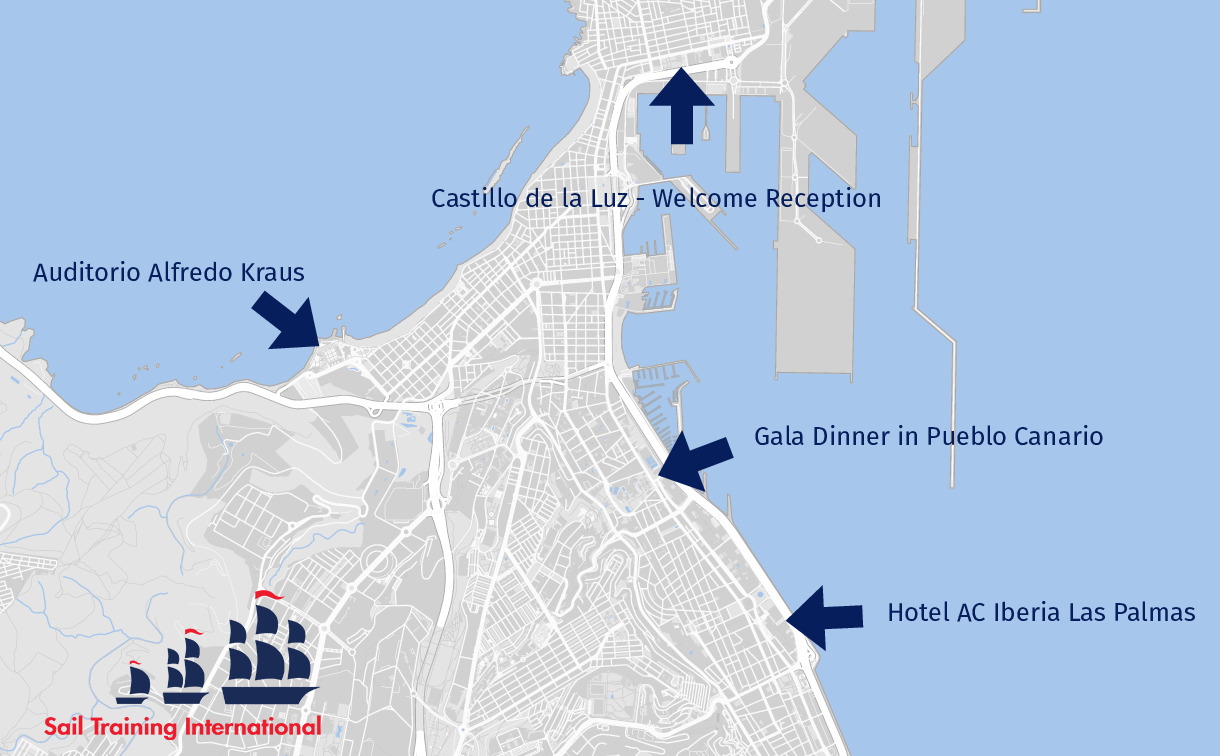 See you there
The conference is shaping up to be an exciting event, with informative and thought-provoking sessions across a range of subjects that are crucial to effective sail training, Tall Ship event management, best practice whilst at sea, and navigating the challenges posed by the COVID-19 pandemic and an ever changing landscape of world politics.
Our attendees include vessel operators, sail training programme providers, bidding cities and host ports for future events, and representatives from Sail Training International's endorsed events – and we look forward to welcoming you too!
If you have any questions about the conference or booking your stay in Las Palmas, please email vanessa.mori@sailtraininginternational.org or pauline.appleby@sailtraininginternational.org.