The Rendez-Vous 2017 Tall Ships Regatta fleet, trainees and visitors won't forget Sines in a hurry! It's been a fantastic few days of sunshine, entertainment, and beautiful Tall Ships. Everyone enjoyed an incredible fireworks display last night… and organisers are expecting final visitor numbers to top 100,000.
Earlier this evening (1 May), the international fleet set sail on Race 2 of the Rendez-Vous 2017 Tall Ships Regatta to Bermuda (via Las Palmas). The spectacular Parade of Sail took place from Sines and made its way south toward Porto Covo. Sagres (Portugal) led the fleet, followed by Vera Cruz (Portugal), Juan de Langara (Spain), Jolie Brise (UK), and Belem (France). The rest of the vessels followed in perfect formation, before starting the second leg of this epic race. There were huge number of spectators watching the Parade of Sail on this May public holiday, known as Dia do Trabalhador (Labour Day).
The Fleet Sets Sail Across the Atlantic
Of course, this isn't just any race start… it's the beginning of the incredible Transatlantic leg across to Bermuda. Hundreds of excited trainees have just set sail from this beautiful Portuguese port, ahead of the adventure of a lifetime!
The fleet began undocking at 14:30 for the Parade of Sail, which started at 15:30. Vessels saluted Praia de São Torpes as they passed, before taking up position ready for the race start at 19:00. From the Class A fleet, Wylde Swan (The Netherlands) was first to cross the line, followed by Belem (France) then Sagres (Portugal). Atyla (Vanuatu) put in a fantastic performance and crossed the line first out of the smaller vessels.
"The race start went ahead as planned. The Class As crossed at 19:00 local time (18:00 UTC), under a fresh north-westerly wind and beautiful, sunny conditions. The fleet is making good initial speed towards Las Palmas, with good conditions for their first night at sea. We wish all vessels fair winds and following seas."

Paul Bishop, Sail Training International Race Director.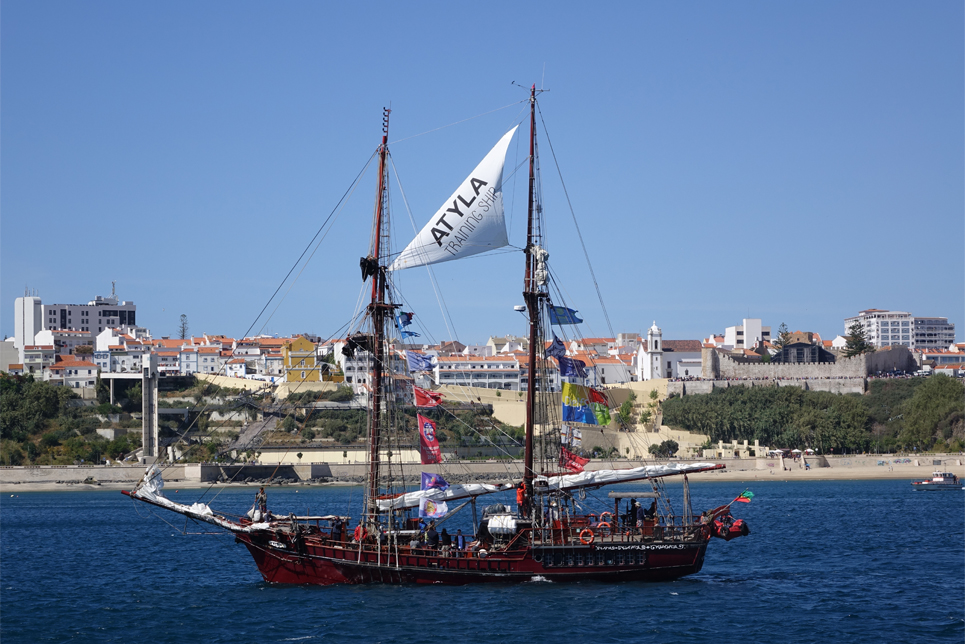 Follow the Fleet With YB Satellite Tracking
The adventure has only just begun… for trainees and for everyone following the race at home. Each ship is fitted with a YB satellite transponder – a self-contained battery operated tracker which allows you to track a vessel's position from anywhere on earth.
Using YB Satellite Tracking, you'll be able to follow the Rendez-Vous 2017 Tall Ships Regatta as it makes its way from Sines to Las Palmas, then across the Atlantic toward Bermuda… and in every race toward the end of the event in Le Havre, France. You can stay up to date with the latest tactics and race placings… and with our regular race reports, you won't miss a thing!
Check out our YB Satellite Tracking page to follow the fleet (including instructions and more information). You can also download the YB app for your phone and tablet from the App Store and Google Play Store, which gives you everything from the web version on the go.
Looking Forward to Exotic Bermuda
Bermuda has hosted the Tall Ships Races and Regattas five times in the past – the Rendez-Vous 2017 Tall Ships Regatta will be its sixth event. The island will also welcome the 35th America's Cup, presented by Louis Vuitton, at the same time… so expect an electric atmosphere and some incredible sailing!
Bermuda is a stunning Caribbean island that's exceptionally proud of its outstanding natural beauty, golden sands, safe harbours, and stunning coral reefs. You can experience some of the best swimming, sailing and on-the-water experiences in the world on the island. It's also surrounded by coral reef, which is home to scores of colourful fish. And it boasts many old shipwrecks, which makes for truly memorable sightseeing offshore.
About the Rendez-Vous 2017 Tall Ships Regatta
The Rendez-Vous 2017 Tall Ships Regatta is truly the adventure of a lifetime. You could be sailing in the wake of the great explorers, travelling 10,000 nautical miles, visiting seven different countries (UK, Portugal, Canary Islands, Bermuda, USA, Canada, and France), taking part in seven races… and cruising to more than 30 beautiful Canadian guest ports. What are you waiting for?
What's Next?
Want to get involved with the Rendez-Vous 2017 Tall Ships Regatta? There are still berths available – secure your place today! Check out our event page for more information. You can book your place directly with a participating vessel, or if you'd like help simply email our friendly team on enquiries@sailonboard.com who can make recommendations, answer questions and process your booking for you.
Photos: Atyla in the Parade of Sail in Sines (banner image and featured image).