Don't worry if you couldn't make it on to a Tall Ship this year – two events in 2018 are now open for ship entries and bookings – the Tall Ships Races 2018 and Three Festivals Tall Ships Regatta 2018.
Both 2018 Tall Ship events promise a particularly memorable experience for all vessels and trainees taking part, with the Tall Ships Races 2018 sailing across the North Sea and Three Festivals Tall Ships Regatta 2018 sailing across the Irish Sea, Celtic Sea and the Bay of Biscay.
Everyone is guaranteed an exciting combination of in port festivities and exciting racing conditions across five countries from May to August.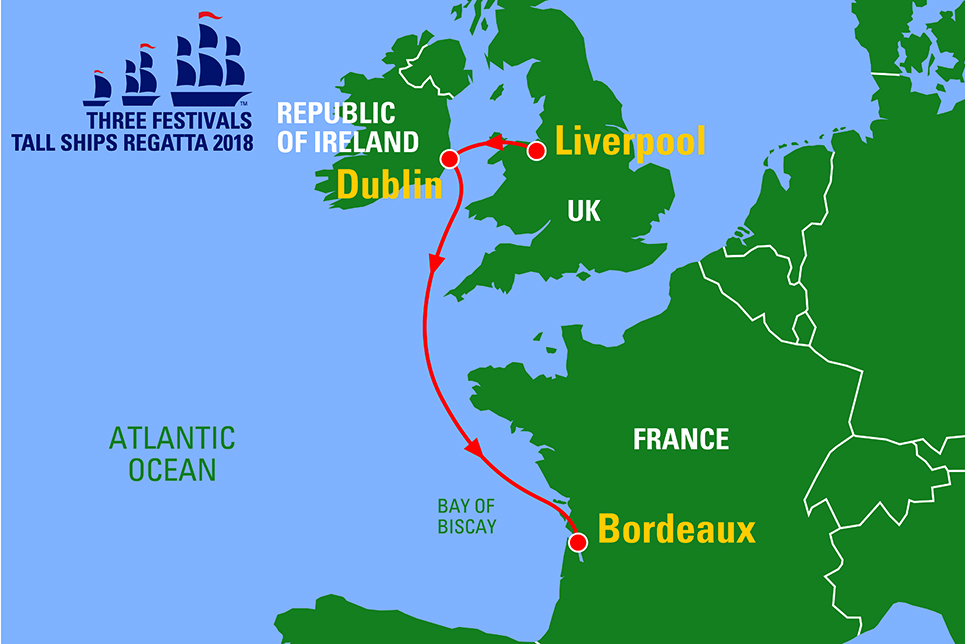 Three Festivals tall ships Regatta 2018
The Three Festivals Tall Ships Regatta 2018 is a two leg event with a festival in every port. It finishes in beautiful Bordeaux, where the crews will be able to enjoy the biennial international Wine Festival.
Liverpool – UK (25 May – 28 May)
Race 1
Dublin – Republic of Ireland (1 June – 4 June)
Race 2
Bordeaux – France (14 June – 18 June)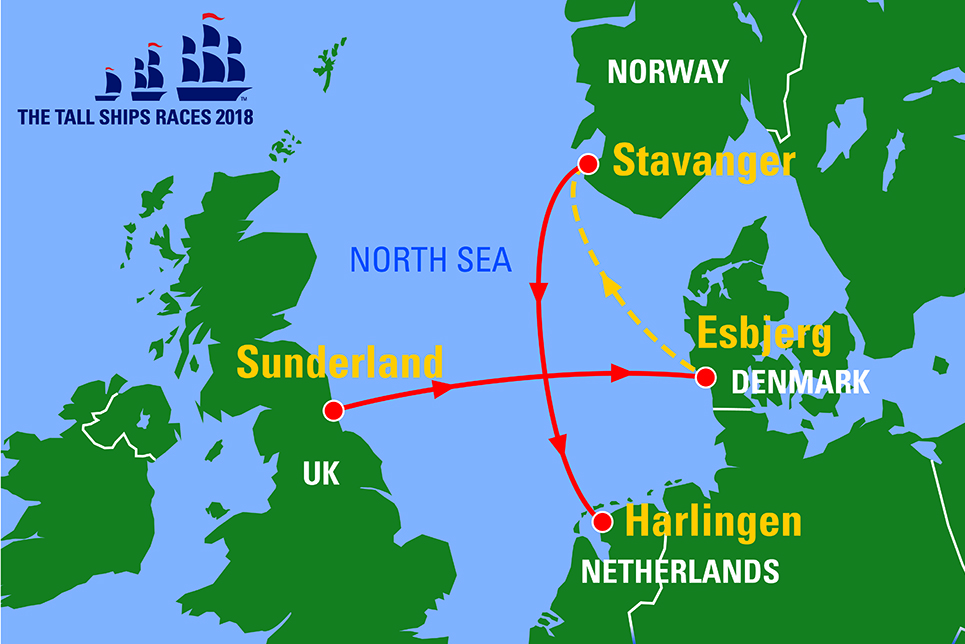 The Tall Ships Races 2018
Four fantastic cities and two challenging races across the North Sea makes the Tall Ships Races 2018 an essential event in the sail training calendar.
Brace yourself for an invigorating voyage across the North Sea, from Sunderland, UK to Esbjerg, Denmark. The international fleet will then undertake a breath-taking cruise-in-company between Denmark and Norway, before racing south to The Netherlands.
Sunderland – UK (11 July – 14 July)
Race 1
Esbjerg – Denmark (18 – 21 July)
Cruise-in-Company
Stavanger – Norway (26 July – 29July)
Race 2
Harlingen – Netherlands (3 August – 6 August)
"Many factors need to be considered when selecting ports and planning a Tall Ships Race or Regatta series, and many people are brought into the process to bring in their expertise, knowledge and judgement. So, we are confident these fine cities will deliver high quality events with excellent support for sail training."

Paul Bishop, Race Director
Vessel Entry Forms
Entry forms for vessels wanting to take part in these two events can be downloaded here:
Three Festivals Tall Ships Regatta 2018
Crew: we Want you
Sailing on a Tall Ship gives you the opportunity to step into a world of adventure. A world where you can challenge yourself, learn new skills, and make new friends from around the world.
It doesn't matter who you are – if you are over 15 years old you, your employees, children, grandchildren or school all have the opportunity to sail on board the Tall Ships in these exciting events and be part of the Tall Ships Races prestigious history.
There's no other feeling like crashing through the waves, on a vessel where you're an essential part of the crew. Whatever you're doing, you'll have an experience you'll never forget.
To take part keep visiting the event pages to see which ships have registered their entry and book directly with the ship. If you have queries, or experience any problems just email enquiries@sailonboard.com and we'll do all we can to help you.
BE A PART OF HISTORY
The first Tall Ships' Race in 1956 was a race of 20 of the world's remaining Tall Ships. The race was from Torbay, UK to Lisbon, Portugal and was meant to be a last farewell to the era of great sailing ships.
However, people from around the world loved the event so much the Sail Training International Race Committee formed a founding organisation and has since organised international Tall Ships' Races and Regattas annually, attracting hundreds of ships and millions of spectators.