Following a successful and productive compulsory 48-hour stop-over in Las Palmas, all vessels have now begun the second, Transatlantic section of Race 2 of the Rendez-Vous 2017 Tall Ships Regatta.
Here's the latest:
"All vessels have now started and there seems to be two overall tactics emerging. Vahine (Finland), Spaniel (Latvia) and Peter von Danzig (Germany) have headed south to pick up the stronger trade winds, but Rona II (UK) and Jolie Brise (UK) have kept north of this group which is a more direct course to Bermuda. With well over 2,000 nautical miles to go, it will be a while to see which strategy will pays off."
Paul Bishop, Sail Training International Race Director
News From Behind the Sails
As the fleet begins to make its way across the Atlantic toward Bermuda on Race 2, here's a taster of what our young trainees can expect. We caught up with Jordan Tappenden in Sines, fresh from Race 1. This is what he told us:
Jordan Tappenden, 18, Rona II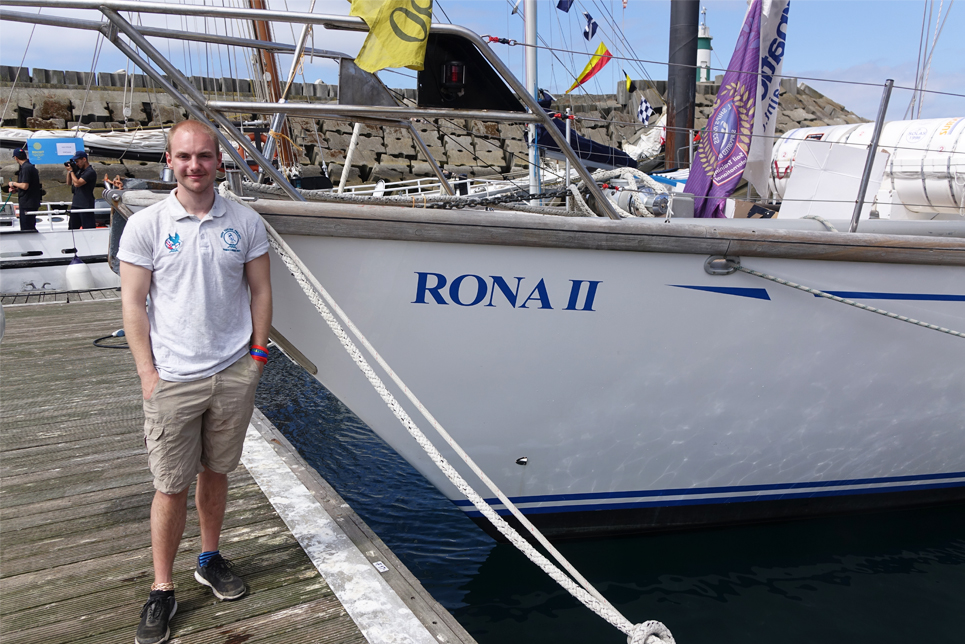 How was the journey from Royal Greenwich to Sines?
"It was really good. I kept myself dosed up on seasickness tablets. People are right when they say singing helps seasickness. Unluckily, for one of the days in Biscay, I was down in the galley and it's always worse down there. So, we put on some tunes and just got on with it. The boat was tipping all over the place! Going across the Bay of Biscay, I was told it would be pretty tame. But it's definitely more choppy than I've done before! So, it was pretty interesting!"
What was your favourite part of the voyage?
"My favourite part has got to be being part of the Rona II crew. It's an amazing family, basically. I've only been sailing a couple of times, but I feel like I'm one of them. You get everyone wearing the crew tops and you get everyone involved… it's amazing."
What was your least favourite part of the voyage?
"My least favourite part was once we arrived in Sines… we weren't actually sailing. In theory it was a good idea to have a BBQ on the beach, but in reality it was very cold and very rainy. As we were going there, the dinghy that we used to get to the beach actually had an engine failure… so we had to row back. The problem was the BBQ wasn't even that nice… it was all covered in sand! But in terms of actual sailing, probably my least favourite part was not being on deck for some of it. The watch system does mean that one in every three days you're going to have to do 'mother watch.' But the boat doesn't run without 'mother watch,' so someone has got to do it."
What was the most valuable lesson you learned on board?
"The most valuable lesson that I've learned is listen to your superiors. You've got this perceived security with a life jacket on, so you feel like you're invincible. You feel like if you fall in the water you're fine. When, actually, you've got to listen to them. You've got to clip on. You've got to make sure that you know what you're doing, that you've told them you know what you're doing. The skipper's in charge of the boat, and he's got 50 years of experience. There's another crew member who's 70 years old, and he's been sailing since he was born, basically. Just listen to the stories they've got and take it on board. It helps make you a better person, which is a really valuable lesson."
What would you say to someone thinking of taking part?
Definitely go to Rona II. I would say just do it. I was um-ing and ah-ng about it… I hadn't been sailing before, and I wasn't too sure what it was all about. I didn't know if I was going to be any good at it or anything like that, but I just decided to go for it. It helped that a couple of my mates were doing it as well, so we kind of joined together and got on. Definitely go for it. Don't turn down the opportunity – not with a charity like the Rona Sailing Project, they're amazing. Rona, Rona, Rona… II, II, II!
FOLLOW THE FLEET
Watch the action as it happens and follow the fleet's progress using YB Satellite Tracking.
GET INVOLVED
You can still be part of this adventure of a lifetime. Berths are available for Race 3 (from Bermuda to Boston) onwards. Why wait? Secure your place today. Check out the available places on our Rendez-Vous 2017 Tall Ships Regatta event pages.
You can book your place directly with a participating vessel, or if you'd like help simply email our friendly team on enquiries@sailonboard.com, who can make recommendations, answer questions and process your booking for you.
Photo: Sailing on board Rona II (image courtsey of Valery Vasilevsky).