Sail Training International Appoint Ambassador in Latin America
April 25, 2022
Sail Training International is delighted to announce the appointment of Wolfgang Schulze as our Ambassador in Latin America.
We are fortunate to have a number of Goodwill Ambassadors who enjoy a strong affiliation to our core mission and values and are able to support and represent our work around the world. It is with great excitement we welcome Wolfgang to this international family to strengthen our work in Latin America.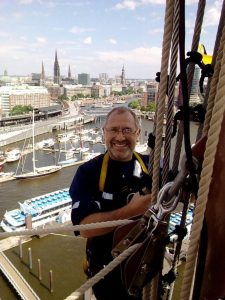 As an ambassador of Sail Training International, Wolfgang (pictured) will support our work raising awareness of the benefits of Sail Training and the positive environmental impact Tall Ships can have through our Blue Flag scheme.  We are also excited to have such a champion on the ground to engage with the Latin American fleet and encourage their increased participation in our events.
Hailing from Chile, Wolfgang has enjoyed a long-term relationship with Tall Ships and the oceans, working as a sailmaker from a young age and now operating a sail making and rigging company in Latin America, Wieinecke Marine.  Like many advocates of Sail Training and Tall Ship sailing, his connection to Tall Ships comes from a personal desire to keep these majestic vessels operating and changing young people's lives.
Wolfgang's passion and enthusiasm for sail training and tall ships are clear:
"Whilst the Tall Ship market, although longstanding, constitutes a small part of our business these days, we are determined to never forget where we started – our work with Tall ships is a matter of pride and enjoyment.

"My relationship with Tall Ships is in my blood, I remember as a 5-year-old visiting our local port and for me the large ships were just incredible. Ever since then they have been close to my heart and have become a lifelong passion." Wolfgang Schulze
One key area of Wolfgang's work will be raising awareness of the Blue Flag Scheme in the Latin America Sail Training and Tall Ships community. The scheme was first introduced by the Foundation for Environmental Education (FEE) to promote clean beaches and marinas. In 2011, we began working with the FEE to extend the scheme to include Sail Training vessels.
The award focuses on three areas; behaviour (of the organisation and vessel), education (of the captain, crew and trainees) and communication (with third parties and the general public). Since launching, the scheme has gone from strength to strength, and we are thrilled to welcome more members from Latin America.
"It's a great opportunity to marry my love of Tall Ships with the environmental work of the Blue Flag scheme. For those of us living a life so close to the sea, it is heart breaking and sad to see plastics and garbage in the oceans and I am passionate to help to stop this.

"I want to help make a long lasting impact on our environment and will work closely with the crews, captains and higher ranks of their institutions to achieve real change." Wolfgang Schulze
We look forward to working with Wolfgang to continue raising awareness of Sail Training and the Blue Flag scheme across Latin America in the coming years.
You can find out more about the Blue Flag Scheme and the work we do to support Sail Training around the world here.