"The team in Las Palmas is doing a fantastic job in welcoming the crews as they arrive. Several vessels have had some technical issues (torn sails and damage to running rigging) and these are being fixed and the crews are in good spirits and are looking forward to their onward race to Bermuda next week. The weather is fantastic and many have taken the opportunity to go to the beach, or to the swimming pool at the Real Cub Nautico (Royal Yacht Club of Gran Canaria), which has kindly offered to host the young crews during their visit.

"Once all vessels are in port and the Race Declaration forms have been received, the Race Committee will publish the final race results from Sines to Las Palmas."

Paul Bishop, Race Director, Sail Training International
Provisional Results:
NEWS FROM THE CREW OF BELEM
JOUR 7 : 5 MAI
« Platon disait : « il y a trois sortes d'hommes, les vivants, les morts et ceux qui sont en mer ». C'est ce que nous ressentons chaque jour un peu plus. Aujourd'hui le soleil est de retour. Le passage pluvieux était de courte durée, juste pour nous rappeler que nous ne décidons pas. Ce sont les éléments qui nous portent. Nous faisons d'ailleurs route vers l'ouest plutôt que vers les Canaries. Cette nuit, nous aurons l'occasion de le vérifier : des petits lumières au loin et une température plus clémente. Les Pour atteindre notre destination finale, il nous faudrait un petit coup de pouce du vent.

« Dauphins à Bâbord ! », crie un gabier. Un troupeau de gazelles se rue. Une dizaine de dauphins est en train de pêcher, accompagnés par des fous de bassan. Ils ont repéré le bateau, ils nous frôlent, ils dansent, ils jouent. Moment irréel, hors du temps. Certaines gazelles ont même pu observer ce manège du haut du Beaupré, l'extrême avant du bateau, au-dessus de l'eau.

« Tout là-haut là-haut, perchées sur le grand mât, à 30 mètres. Incroyable sensation, incroyable liberté, incroyable sensation d'immensité. « Il est canon ton bureau Sylvain ! » Mais ce spectacle est la récompense d'une ascension des enfléchures avec les nerfs bien accrochés. « Force et puissance », crie l'une des gazelles restées en bas. Agnès, es-tu prête ? « Ce n'est pas le moment de réfléchir, une énorme énergie m'envahit, pas le temps de douter. Je pense aussi à mes deux Sabrina, celle qui me soutient ici, et celle restée à terre. Lydie, me voyant un peu stressée, me donne la clé : « pense juste à la victoire là-haut, à la beauté du lieu ». Merci tu me donnes le déclic, j'enfile mon harnais, je souffle. Un mélange de crainte et d'euphorie… Je commence mon ascension marche après marche. Je sens le roulis du navire, les enfléchures deviennent de plus en plus verticales. Enguerrand, notre gabier nous rassure. Je vois au-dessus de moi Julie et Gisèle qui montent avec une grande facilité. Allez, encore quelques mètres, l'échelle rétrécit, devient de plus en plus étroite, juste de quoi poser un pied. Je n'ai plus qu'à me laisser glisser à l'horizontale sur la vergue. Les filles sont déjà installées. Je m'agrippe à Sylvain pour quitter l'échelle et me glisser sur la droite. Whaou ! C'est énorme, du bleu à perte de vue, du bleu profond. Je me concentre sur mes sensations : le vent qui caresse ma peau, les mains crispées sur le métal froid de la vergue, la chaleur du soleil, les applaudissements des gazelles en pied de mât et la voix de nos matelots alpinistes. J'ai toutefois du mal à relâcher, qu'importe j'y suis, je suis méga fière, méga heureuse. Sylvain me propose de serrer le grand cacatois. Je laisse les deux autres à la manœuvre. Il me tarde de redescendre maintenant, j'enchaîne sans trop regarder en bas. Les gabiers sont épatants, quelle agilité, quel sang froid ! Le roulis s'intensifie, je me retrouve agrippée, perchée en arrière. Allez, il faut penser aux suivantes, descendre sans traîner. Chacune veut se lancer ce défi ou ce plaisir selon ses capacités, ce sera une expérience unique dans tous les cas.

« La journée s'achève sur le pont, Pierre attrape un tableau blanc et de quoi dessiner. Les gazelles, parées pour un cours théorique (et toujours mythique) sur les vents ? Matthieu enchaîne avec un cours sur les voiles car Pierre à rendez-vous chez le coiffeur du bord, Gaël, le charpentier, à qui bon nombre de membres d'équipage confie sa tête jour après jour. La polyvalence est de mise sur Belem, où l'équipage doit apprendre à fonctionner en parfaite autonomie. Le commandant conclut avec un point sur notre position et notre classement dans la régate. Aujourd'hui, nous ferons 44 milles, à une vitesse moyenne d'environ 2 nœuds, soit pas grand-chose. Mais tant pis, nous naviguons à la voile… Et c'est l'essentiel. »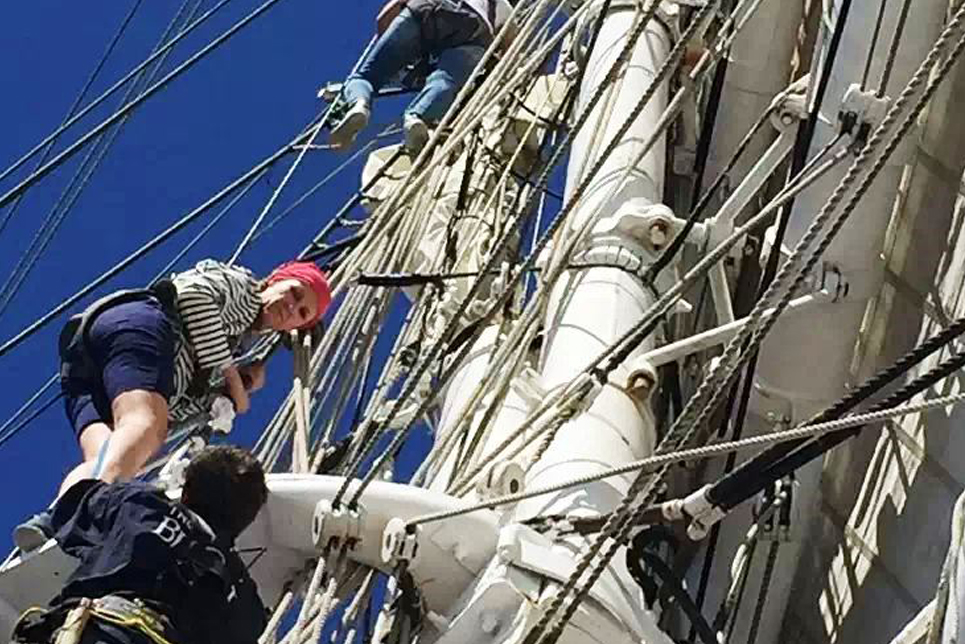 NEWS FROM THE CREW OF rona II
Rona II are now in Las Palmas – this was their final blog post.
"We were finally able to put our spinnaker training into practice as today was the first day flying a spinnaker. We hoisted the asymmetric spinnaker on Friday morning to make the most of the very light winds. When the positions came in, it was a nice surprise to see that we were not all that far behind the rest of the fleet, despite all the palaver with Mark's ascensions to the lofty heights above to fix the main halyard.

"Jonny has been continuing his battle with misbehaving salt water taps today. After six days of wrestling and grappling with various pipes and wires underneath the floorboards, assisted by the delightful Miss Matthews, he is now convinced he has found the source of the problem – a eureka moment for all concerned! We are therefore eagerly awaiting the arrival of mysterious 'parts' on Monday when we get to Las Palmas to hopefully resolve all aforementioned problems.

"The standard of food had been set very high by previous watches, and so Red Watch had their work cut out for them. We got so excited by how wonderful our meals were (we even got four compliments in a row from the Skipper!) that our portion control may have become a little enthusiastic. Notable mention goes to the custard with Libby making enough to feed 55! Louisa still claims she could have eaten the excess!

"Night watch conversations hit an all time high this evening. Who could have thought that dishwasher loading, washing machines and cardigans could be so entertaining… could it be sleep deprivation?! Or could it be a combination of sugar induced madness caused by hot chocolate, fudge and our very own handmade apple, raisin and cinnamon flapjacks… I guess we will never know!"
FOLLOW THE FLEET
Watch the action as it happens and follow the fleet's progress using YB Satellite Tracking.
GET INVOLVED
You can still be part of this adventure of a lifetime. Berths are still available for Race 3 from Bermuda to Boston and onwards. Check out the available places on our Rendez-Vous-2017 Tall Ships Regatta event pages.
Photos: Heady heights on board Belem (France). Submitted by the crew on passage.