At 09:00 UTC today (Monday 8 May), the Sail Training International Race Committee decided to amend the start line from Las Palmas to 200 miles south of Gran Canaria.
This decision has been made due to the lack of wind forecast in the area for the next three to five days. By putting the start line 200 miles to the south, it's hoped that the Tall Ships fleet will be able to take advantage of being towards the edge of the Trade Winds, which will help them on their course to Bermuda.
"The race committee has taken this unusual step due the very light winds forecast over the next few days for the Canary Islands region and towards the west. We hope the fleet will better placed to have good race across to Bermuda."

Paul Bishop, Race Director, Sail Training International
Race Results – Sines to Las Palmas
With the whole of the Tall Ships fleet having now finished and preparing to restart the race to Bermuda from the revised start line, the Sail Training International Race Committee has published the official race results for the Sines, Portugal, to Las Palmas leg of Race 2.
Essential Maintenance
With only Atyla (Vanuatu) and Belem (France) yet to reach the 48-hour stop-over in Las Palmas, Canary Islands, there has been a welcome opportunity for the fleet to stock up on supplies, carry out essential maintenance, and – most importantly – enjoy some well earned rest.
With Peter von Danzig (Germany), the first of the fleet to arrive in Las Palmas on Saturday, experiencing engine trouble, and Rona II (UK) still working to resolve a number of issues that arose on the voyage from Sines, Portugal, it has been a tale of contrasting fortunes so far in Race 2. We caught up with some of the crew to see how they are progressing at this midway stage of the voyage.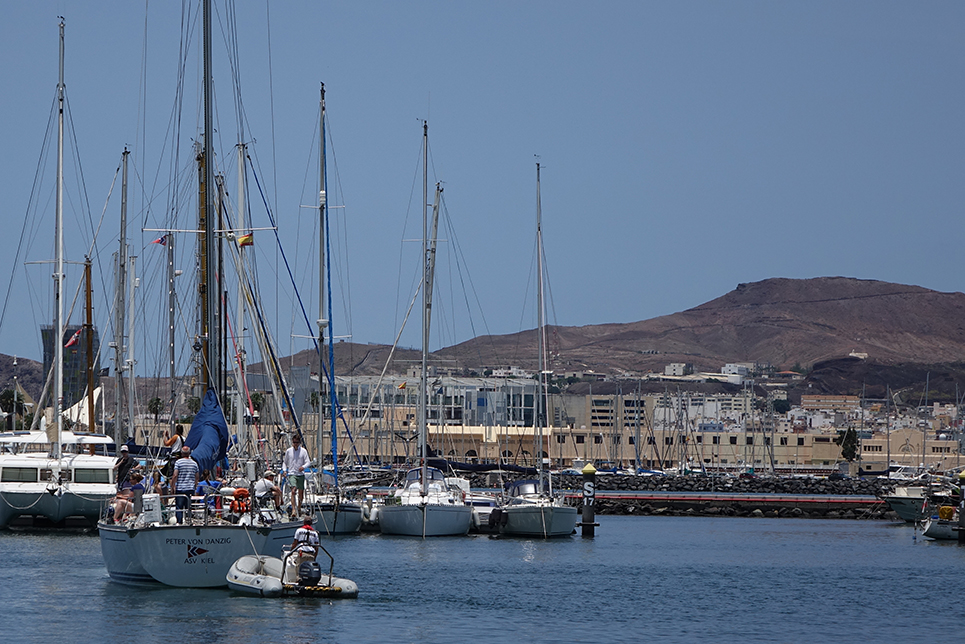 Peter von Danzig (Germany)

The German ship ran into trouble with their on-board motor when undocking in Sines, Portugal, for the Parade of Sail and voyage to the race start line. After making great progress under sail throughout Race 2, there were further signs that all was not well with the ship's mechanics as they began the approach to Las Palmas. Since then, it has been discovered that she has issues with the gear box and shaft that require assistance from local mechanics.
Wylde Swan (Netherlands) has kindly offered to have the crew stay on board as works are completed.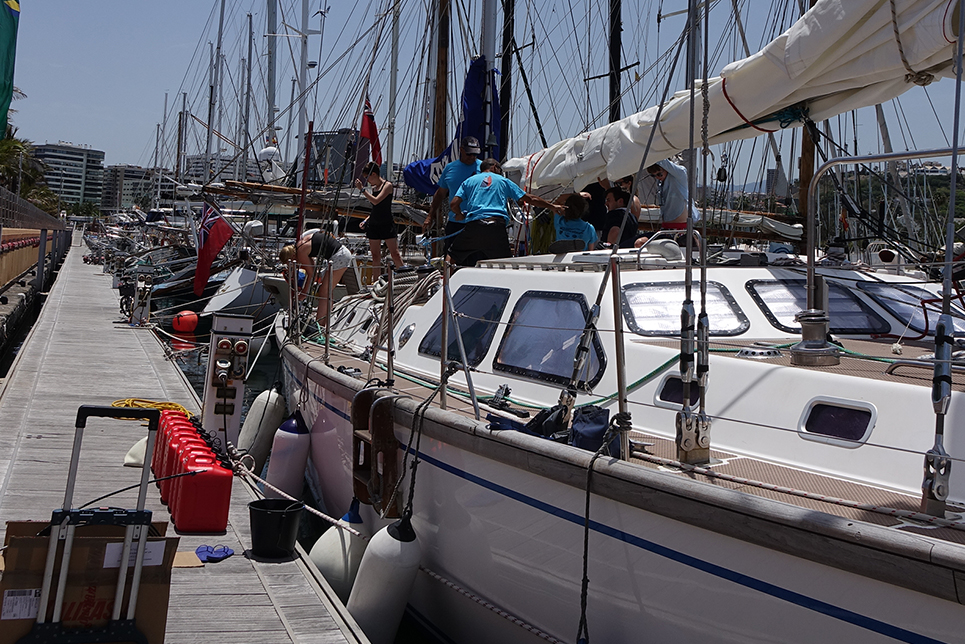 In our fourth race report of the voyage from Sines, Portugal, to Bermuda, we featured an update from Rona II (UK) that detailed the dramatic moments their main sail batten cars broke away during the night. Following some emergency repairs at sea that provided a temporary fix, they are now hard at work getting ready for the rest of the Transatlantic crossing.
"Our main issue was chaffing on the main halyard. Rona II has a new rig that was only fitted before the boat sailed from England, so it was never really trialled. We had a complete halyard failure at sea that required a lot of work that has got us this far.

"We now have the riggers in to fit a new dyneema main halyard and to check the masthead crane for issues and adjusted that. We've now accepted that unfortunately we won't be able to fully hoist the main sail from here on."

Len Johnson, Skipper of Rona II
FOLLOW THE FLEET
Watch the action as it happens and follow the fleet's progress using YB Satellite Tracking.
GET INVOLVED
You can still be part of this adventure of a lifetime. Berths are available for Race 3 (from Bermuda to Boston) onwards.Why wait? Secure your place today. Check out the available places on our Rendezvous 2017 Tall Ships Regatta event pages.
You can book your place directly with a participating vessel, or if you'd like help simply email our friendly team on enquiries@sailonboard.com who can make recommendations, answer questions and process your booking for you.
Photo: Crew working on Blue Clipper (UK) berthed in Las Palmas (featured image and banner image).