At the time of publishing four vessels have crossed the finish line of the final race in the Rendez-Vous 2017 Tall Ships Regatta.  More vessels will finishing over the next 12 hours and a fuller report will be available tomorrow, Till then, here are the current results and we report on the mixed feelings of the crew as their adventures in this special event draw to a close.
PositionS overall and by class – on corrected time:
Oosterschelde (Netherlands) (1st Class A)
Blue Clipper (UK) (1st Class B)
Jolie Brise (UK) (2nd Class B)
Gulden Leeuw (Netherlands) (2nd Class A) FINISHED
Atyla (Vanuatu) (3rd Class B)
Alexander Von Humboldt II (Germany) (3rd Class A)
Rona II (UK) (1st Class C/D) FINISHED
Regina Germania (Germany) (2nd Class C/D)
Spaniel (Latvia) (3rd Class C/D) FINISHED

Vahine (Finland) (4th Class C/D)
Peter Von Danzig (Germany) (5th Class C/D) FINSHED

Watch the action as it happens and follow the fleet's progress using YB Satellite Tracking.
CREW NEWS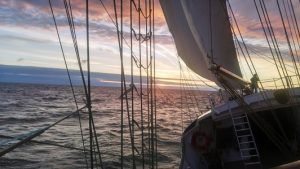 Here Comes the Sun: Anna Gudarowska, Gulden Leeuw
16 August: Yesterday was absolutely crazy – I loved it! I was on galley duty, together with the facilitators of the group we have on board. We missed most of the fun out on deck. The inside of the ship was a pretty exciting place to be nonetheless.
The day has started rainy and windy, with heavy heeling to the port side. By afternoon the rolling movements followed, making trainees and crew alike feel slightly queasy to totally sick. The watches would stay mostly inside, with only the necessary people on duty, changing every half an hour. There was no going outside without a harness and the sick had to take a buddy with them.
In the galley everything was flying. A mess on the floor welcomed us as we opened the door, and it only got worse from that point. One person got hurt by flying carrots in a hilarious yet slightly painful incident. We've found out that as long as you stay focused on a given task, the sea sickness stays at bay. Coming up with hot dishes overflowing with – miraculously – delicious food was the most difficult part, though washing the dishes while all the time heeling to one side proved almost an extreme sport as well.
Somehow during the day all the meals got served on time, even if an occasional cry of pain (or a curse) could be heard from the galley. We even baked a sweet bread for a 4 o'clock snack. I couldn't help but admire our cook's dedication to smoking when he would regularly go out in the foul weather to "relax", coming back soaking wet but – supposedly – happy.
Through all that we have sailed quite fast, doing about 10 knots most of the time. By 07:45 we have travelled 215 nautical miles in the 24 hour span.
Today the rolling and heeling persists but the sun has finally come out. The trainees are still sick and/or tired, and admittedly we are not much better – we're just good at hiding it. Our mizzen sail is still reefed, the flying jib had to be taken down yesterday as it got a new hole, and the forestaysail actually got ripped into pieces yesterday. Still, we sail on, and we can now almost see the shores of Ireland and the finishing line of the race. We expect to reach it in the next two or three days. That should give us enough time to stop in one port before we reach our destination in Le Havre. I wonder where that will be…?
Shower Ban: Gulden Leeuw
17 August: Yesterday we had a sunny day which was really needed because the day before we had a storm.. We also had a watch change so we did three watches in one day which has some good and bad, the good was that I like the hours better but the bad was that I had to get used to a new sleeping schedule. We are starting to run low on water so we have a ban on showers. When I was on watch, I was navigator for one of the watches which was great because I never really get to be navigator and I was on helm for the other two watches and while I was on my last watch, I learned how to splice rope.
Finishing: Rona II
17 August: Rona II is heading to Plymouth for a well-deserved rest. She will be moored at Sutton Lock on Friday and Saturday; anyone who'd like to come down and say hi would be very welcome!
One Amazing Interaction After Another: Gulden Leeuw
18 August: So yesterday when I went on night watch, we were 127 nautical miles from the finish line and we've finally reentered commercial waters. Around 21:30, the wind shifted into an almost perfect tailwind, so we had to jibe and switch the sails to starboard and square up the yards, but then as we went on watch, Sophie saw that we were heading for a group of fishing vessels and needed to divert. We didnt want to call for all hands again so we stayed as close to the wind as possible with our skilled sailing facilitator, Saimaniq. As we changed course, it was also seen that we were sailing towards our first sealane. A section with high activity, so lines A, C, and E cannot be crossed, while lines B and D are function just like a road for vessels.
Someone spotted our first lighthouse in several thousand miles, giving everyone a sense of reaching the end of our journey. This makes me particularly sad, because as nice as it would be to see home, I could easily spend another 4-5 months out here. Left, right, and center, every single crew member has been an absolute delight to work with, learn from, and share a great laugh. From Xico's Portugese trap music to Lukas' videogame addiction. Alejandro's Ropey Awareness Day, Captain Arjen dabbing, Anousch and Carlos playing Who Am I, Peter's sea shanties, Anna's kind heart, Michael's horrible jokes, Bente's cleaning regulations, the murder game's cunning and paranoia, Adam and Alejandro balancing on barrels, sword fighting, and "You must SQUEEZE it". This trip has been one amazing interaction after another and the only thing I could wish for is to airdrop my girlfriend on board.
I'll miss every single one of you when we're done, but I hope to never forget anyone. Love you Mom, love you Amy, I'll see you soon 🙂
Banner and feature image:  Sun Going Down – Valery Vasilevskiy